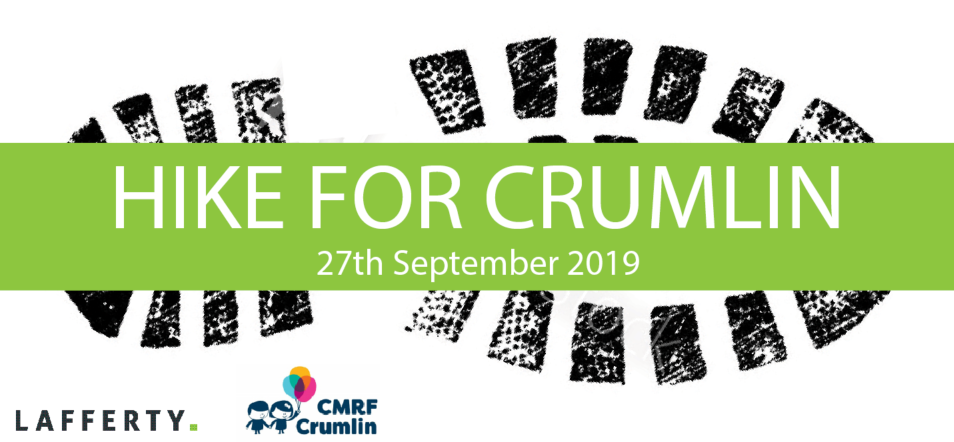 LAFFERTY HIKE FOR CRUMLIN
Following the success of last year's Charity Hike Lafferty are delighted to announce the launch of the Annual Charity Hike for CMRF Crumlin on Friday the 27th September 2019 in Glendalough, Co Wicklow.
Please arrive at 12 noon on the day for registration and refreshments.
Last year we raised over €8,745 for CMRF Crumlin and we would ask you to join us again this year as we hike to raise funds for this very worthy cause. CMRF Crumlin provide vital funding for CHI Crumlin (previously known as Our Lady's Children's Hospital, Crumlin) and the National Children's Research Centre to enable little patients to have the best possible outcomes .
It is a fantastic opportunity for Lafferty Project Managers, Lafferty Architects, family and friends of Lafferty to take a break from their busy lives, enjoy the fresh air and scenery that Wicklow has to offer, rise to the 15km challenge and, most importantly, raise money for a very worthy cause.
Why not use this challenge as a company event? Challenge your staff and colleagues to complete the 15km hike or use it as a team building event.
The emphasis will be on fun and enjoyment - there will be motivational music, a refreshment stop half way and light refreshments at the Glendalough Hotel afterwards, where everyone can enjoy a much needed drink, light bite and swap stories of the afternoons' challenge.
There is a registration fee of €25 per person and you can enter as an individual or group. There is also a facility to make a donation - if you cannot make the event but would like to donate, or you would simply like to make a more generous donation. Every cent donated will go to CMRF Crumlin, as all costs are covered by Lafferty.
There is naturally a limit on the number of participants so it is first come, first served - we encourage early registration.
We thank you in advance for your participation and generosity.
The Lafferty Team.
The Route
The Hike starts at 12.30pm at the Glendalough Hotel. The route is a medium level 15km hike through the Glendalough Hills slightly different to last years. We anticipate it taking 4-5 hours, depending on your level of fitness. The route will be marked and will be on sustainable paths for the length of the route. There will be experienced guides available if you feel you need them to help you navigate the route. If you would like to be guided, please email reception@lafferty.ie.
We have planned a refreshment stop around the midway mark where you can refill your water bottles. Please note this is an area of natural beauty so please bring your litter with you.
There are no bins en route. http://www.leavenotraceireland.org/
Kit List
Mandatory items:
Base layer/ T-Shirt, not cotton
Fleeces top
Water-proof jacket
Suitable footwear
Hat
Blister plasters
Food and water sufficient for the duration of the event
Mobile phone fully charged and functional
Optional items:
Sun cream, if it's a good day
Waterproof trousers, if it's a bad day.
Spare clothes for after the event
Bite cream
Contact Number
Lafferty Reception (Stefanie Keane) - 01 2963660
CRMF Crumlin
CMRF Crumlin is the fundraising body for Our Lady's Children's Hospital, Crumlin as well as the National Children's Research Centre and is dedicated to improving the quality of life for this and future generations of sick children. At their core CMRF Crumlin is patient centred, focused on child health and supporting families dealing with life changing challenges.
Research goes hand in hand with child health and break through projects are changing the way they deliver care to some of the sickest children in the country. For many seriously ill children, early diagnosis and the right treatment at the right time is crucial. That is why they invest in research, as it is knowledge and insights that gives answers, improvements and breakthroughs.
One of our main focuses is on transitional research – getting results from bench to bedside to deliver personalised medicine, individual treatment plans based on the child's individual case, genes and responses. Crumlin want to discover more precise and faster diagnoses for children, targeted interventions and cures ultimately saving more children's lives and improving long-term outcomes for each sick child.
CMRF Crumlin will continue to invest in research and ensure that every patient that passes through the doors of Our Lady's Children's Hospital, Crumlin receives the best treatments and supports possible in an environment that supports recovery and well-being. www.cmrf.org